Top 5 WordPress Themes On The Net
WordPress has to be one of THE best scripts ever to be created. Seriously. Not just for blogging, but overall it has made a massive impact on the web as a whole and has given entire new communities an easy-to-use system for blogging, or starting any kind of website for that matter. That is why I see it fit to publish what I call The Top 5 WordPress Themes On The Net. After all, even FreelancerMagazine runs on WordPress. Just read ahead…
This theme caused waves in the online world when as it managed to truly show the versatility of WordPress as a system for not just 'blog-like' structured websites, but for online magazines, news websites, and general multimedia websites. I think Revolution has become quite a name in its own respect, and Brian Gardner (creator of Revolution by my knowledge) has done well for himself.
The Jello Wala Mello Theme or 'JWM' for short is a brilliant theme which I've used in the past on some of my personal websites. The main feature which attracted me to using this theme is the way each post is presented, and the way previous posted are laid out on the mainpage. Brilliant for quality article websites, and perfect to modify to suit your own website. Best of all, it's FREE!
The PaperCut Theme is an extremely unique theme in its own right. It definately gets full marks for creativity and a well-thought out and executed design. It's just so easy on the eyes that you could stare at it all day! :p The theme also has a nice way of laying out categories so they're easy to see and broken down instead of having masses of text everywhere. Definately a good 'un in my books.
To purchase it, just go to the WooThemes website, and click on 'Our Themes' on the main navigation. You'll come to a list of WordPress themes provided by WooThemes, and you can just purchase it from there.
Always searching for that perfect gallery theme but could never find it? Well aren't you in for some luck, huh? Welcome to the eGallery Theme from Elegant Themes. I have to say, it's a brilliant-looking theme for WordPress which could be turned into a very nice CSS/logo/(whatever) gallery! Well worth the measly cash you pay to join the theme club there.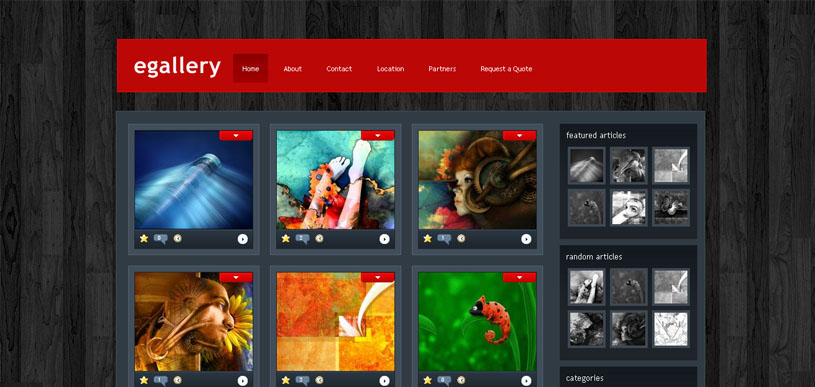 Oh yes, another one from Revolution. I have to say, they're really good at producing quality and versatile WordPress themes. It's called Revolution Pro Media Theme and as you can tell it's for media-related websites, much like the feature-full Revolution Magazine theme that's taken first place, it's layout is well-designed, and everything has it's wonderful, cosey little area.
Woo, and that concludes our awesome Top 5 WordPress Themes On The Net section. Remember, if you have any suggestions on a WordPress theme (or any design/theme for that matter) then let us know via the contact us form, and we'll be sure to feature it up here on FreelancerMagazine!